Your fleet of vehicles is directly tied to your ability to turn a profit. Thus, you must do everything within your power to ensure your vehicles are in peak condition and performing as intended. And preventive fleet maintenance is one of the best ways to do that in Dayton, NJ.
At EG Auto Center, we are proud to offer comprehensive preventative maintenance for vehicles of all types and fleets of all sizes. As auto repair experts in Dayton, NJ and nearby areas, we've outlined some essential things about fleet maintenance. 
1. Preventive vs. Corrective Fleet Maintenance
Most people are surprised to learn that there are two types of fleet maintenance: 
Corrective: fixing issues as they arrive.
Preventive: involves regularly scheduled tasks that work to prevent problems from occurring.
At EG Auto Center in Dayton, NJ, we offer both services. However, when you're proactive and do preventative maintenance, you can reduce the need for corrective maintenance.
Examples of preventive fleet maintenance include:
Changing air filters
Brake pad replacement
Tire rotation and tire pressure checks
On the other hand, corrective fleet maintenance can include items like:
Fixing a flat tire
Replacing a broken light bulb
Alternator replacement
Any other service required to get your vehicle back on the road whenever it breaks down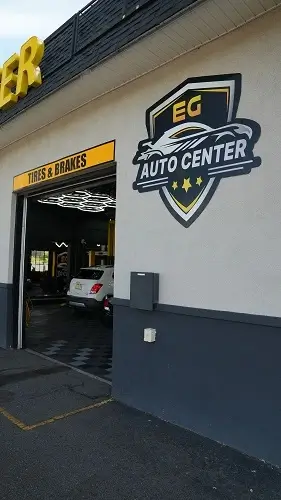 2. Successful Scheduling Is the Schedule for Success
Preventive fleet maintenance is predicted to prevent issues before they occur (hence, the name). This means you should never wait for mechanical failure to bring your vehicle into an auto repair shop.
Your preventative maintenance program should include scheduled services based on mileage and the manufacturer's suggested intervals. The maintenance schedule should be designed so that services increase in detail and complexity as the age of your vehicle increases.
In either case, the best preventive fleet maintenance programs are all about prevention. Thus, scheduling is paramount.
3. Educate Your Drivers on the Importance of Maintenance
Even when you schedule preventive fleet maintenance, your drivers are still your first and most important line of defense. They will be the first to know if a vehicle makes a weird noise, like if the brakes squeak or if there is a busted tail light.
As such, they must know the importance of informing you, the mechanic, or the appropriate party of any potential warning signs. Doing so can allow you to quickly examine the symptoms and perform the proper services before things turn into much more expensive repairs.
Contact EG Auto Center for Preventive Fleet Maintenance in Dayton, NJ
Your fleet of vehicles represents one of the largest and most significant capital investments you've made for your business. At the same time, your fleet is directly related to your ability to earn revenue and run a successful business.
With so much riding on the wheels of your fleet vehicles, it makes dollars and sense to have a robust maintenance program. And the experienced mechanics at EG Auto Center are here to help.
Call us at (732) 329-6300 or fill up this appointment form. You can also stop by to see us at 2276 US HWY 130, Dayton, NJ 08810.