Fleet Service & Repair in Dayton NJ
As one of the most significant capital investments your business makes, your fleet of vehicles is extremely important. Depending on the type of business you operate, your fleet could be directly tied to your company's profitability. Considering what hinges on your fleet, it makes dollars and sense to protect your investment. One of the best ways to protect your fleet is with regularly scheduled fleet repair and maintenance.
At EG Auto Center, we are the leading fleet repair and maintenance facility in Dayton, NJ. We offer a full range of customizable fleet solutions designed to extend the life of your vehicles and save you money. Don't hesitate to reach out to us today for expert fleet services in Dayton, Jamesburg, Kendall Park, Plainsboro, North Brunswick, South Brunswick, Monmouth Junction, Monroe and surrounding areas.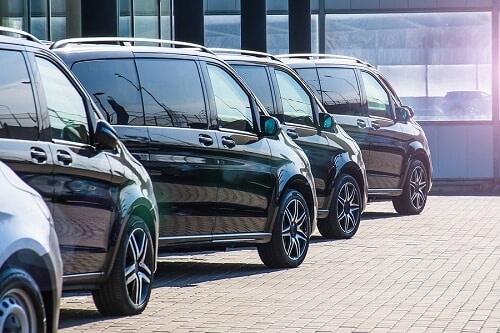 Keep Your Entire Fleet Rolling with Expert Fleet Maintenance in Dayton, NJ
We get it — unscheduled downtime can be costly and inconvenient for your business. If you do not have a backup for the specific downed vehicle, it can lead to missed appointments, upset customers, and lost revenue. The best way to overcome unscheduled downtime is to have regular fleet service. And the fleet service mechanic at EG Auto Center can help.
We specialize in delivering fast, cost-effective fleet preventative maintenance for virtually all makes and models of vehicles. Whether you have a fleet of gas vans, diesel trucks, or a mix of both, the mechanic team at EG Auto Center offers the expertise and state-of-the-art equipment to meet your unique needs. Most importantly, we will work closely with you to develop a fleet maintenance routine for each vehicle.
Fleet Service Is a Matter of Safety
Did you know that faulty wheels or tires cause a sobering 43% of accidents in the United States? At the same time, 25% of accidents result from failing brakes, while 10.5% of accidents result from engine failure, steering failure, or suspension failure. What do all of these issues have in common?
Most of them could've been prevented with regular fleet maintenance. When you partner with EG Auto Center, we will cater a maintenance program to your specific fleet's needs. In either case, some of the most common items we will include on the fleet service checklist include inspections, maintenance, and repairs associated with:
Air filters

Coolant levels

Oil and filters

Transmission fluids

Transfer case fluids

Turn signals, headlights, and other indicators

Comprehensive vehicle inspections (brakes, steering, suspension, tires, coupling devices, and more).
Coolant fluid exchange

Spark plugs

Front and rear differentials

Serpentine belts

And more
Simply put, the mechanics at EG Auto Center goes the distance, so your fleet can as well.
Contact EG Auto Center Today for Fleet Repair and Maintenance in Dayton, NJ
When you partner with EG Auto Center for fleet service, we will help reduce the cost of repairs, lower operational costs, and improve inspection and testing outcomes. Because every company's fleet is unique, we will tailor our services to meet the unique needs of your business best.
Contact EG Auto Center today for expert fleet services.