Reliable Suspension Service and Repair in Dayton, NJ
If you're searching for the best "auto suspension repair shops near me," EG Auto Center will meet your needs and exceed your expectations at every turn. We are the leading suspension service and repair center in Dayton, Kendall Park, Jamesburg, Plaine Boro, and North & South Brunswick.
We offer affordable service and repair solutions for all makes and models — including domestic vehicles and imports. Whether you drive a Ford, Toyota, Nissan, or a luxury vehicle like Mercedes-Benz or BMW, EG Auto Center can provide the solution you need.
Suspension Service and Repair for All Types of Systems
Your vehicle's suspension system is tasked with delivering a comfortable ride and optimized driving performance. This critical system helps ensure control remains where it belongs at all times — with you. Your suspension system transforms energy generated by bumps in the road into vertical energy that moves up into your vehicle's frame. Key suspension components, like shock absorbers and coil springs, work to help dampen the impact of this road force.
Although every vehicle's suspension system can vary, they all tend to weaken over time through the repeated stress exerted by everyday driving. And no matter your vehicle or driving preferences, EG Auto Center offers expert suspension service and repair solutions to identify and correct suspension issues in Dayton, NJ quickly.
We leverage the latest and most state-of-the-art equipment to quickly and efficiently provide the solutions you need at an affordable price. Our skilled team of suspension mechanics in Dayton, NJ offer the expertise to work on all types of suspension systems: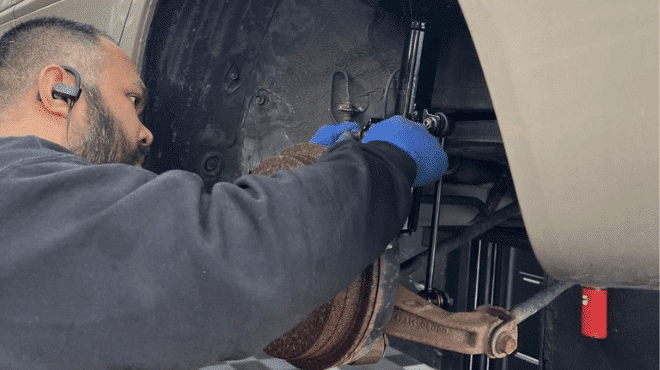 Solid Axle

Suspension

Systems

Independent

Suspension

System Repair

Macpherson Strut Repair

Double Wishbone

Suspension

Repair

Airbag

Suspension

Repair

Semi-Independent

Suspension

Repair

Rigid Axle

Suspension

Repair

Multi-Link

Suspension

System Repair

Trailing Arm

Suspension

Repair

And more
Get the Affordable Suspension Service and Repair You Need
Are you driving around on "may-pop tires," or is your vehicle a blowout waiting to happen? If so, the team at EG Auto Center can help! We offer a vast range of tires from all the top manufacturers, including:
Comprehensive Suspension System Inspection
Before performing any repairs, the first step is to conduct a thorough suspension system inspection to assess the state of your vehicle. We will inspect:
Bushings

Chassis Parts

Differential

Wheel Bearings

And more
Common Suspension Services and Repairs
Once we assess and verify the source of the problem, we offer an endless catalog of suspension service and repair solutions. Some of the most common solutions we provide include:
Suspension

System Inspection

Ball Joint Replacement

Coil Spring Replacement

Front-End Repair

Hub Bearing Replacement

Caliper Repair
Changing Out Shock Absorbers and Struts

Control Joint & Arm Replacement

Rack & Pinion Replacement

Sway Bar Link Replacement
Does Your Vehicle Need Suspension Service and Repair in Dayton, NJ?
It's far better, safer, and more cost-effective to have your suspension repaired before it sustains further damage.
How do you know your vehicle needs suspension service and repair in Dayton, NJ? Here are a few of the top signs your vehicle's suspension is damaged and may need repair by our auto service techs and mechanics:
Are you experiencing poor drivability and problems steering?

Do you feel steering wheel vibration when driving on smooth roads?

Is your vehicle rocking while you're driving?

Does your vehicle tilt forward excessively when you apply the brakes?

Do you hear knocking and squeaking from under your car

?

Do your tires wear fast and unevenly?
Do you hear moans, groans, and other noises?

Does your vehicle continue bouncing after hitting bumps?

Is one side of your parked vehicle sitting lower than the other side?

Does your car pull or drift to one side when you're turning corners?

Do you see oil on your shocks?
Schedule Suspension Repair in Dayton, NJ Today!
Don't wait! Get the fast, affordable suspension repair service you need today from EG Auto Center. In addition to providing cutting-edge solutions, we strive to deliver a world-class experience at every turn. When you schedule service at EG Auto Center in Dayton, NJ, you'll be treated to:
Complimentary 24-Month/24,000-Mile Warranty on

suspension

parts

Complimentary roadside assistance for the duration of the warranty

Shuttle services —upon availability — in the Dayton, NJ area

We will cover your Uber or Lyft tab for one-way trips

Complimentary beverages

High-Definition TV

Fast Wi-Fi in the lobby

After-hours auto service dropbox in

Dayton, NJ

And more
Contact EG Auto Center today for fast and affordable suspension repair in Dayton, NJ.