The Best Custom Rims in Dayton, NJ
Ready to elevate your ride to the next level? If so, the team at EG Auto Center can help! As the leading auto repair and maintenance facility in Dayton, NJ and surrounding areas, we offer an expansive array of rims and wheels for all types of vehicles, including domestic and import vehicles. And when it comes to choosing the best custom set of rims for your car, we will be with you every step of the way.
We have a dedicated team of wheel and tire experts who will support you throughout the process with personalized guidance. We will get to know you, your driving habits, and your needs, and then suggest the best set of custom aftermarket rims.
Whether you're looking for the perfect rims for your Maserati, Toyota, Jeep, Ford, or any other model — the team at EG Auto Center will meet your needs and exceed your expectations at every turn! Schedule your complimentary consultation today.
EG Auto Center Is the Best Custom Rim Shop in Dayton, NJ & Surrounding Areas
Although you may not choose custom rims every day, we do! As such, we offer the expertise and guidance to help you make the best decision for your unique vehicle and needs.
At EG Auto Center, we offer an expansive inventory of rims. And in the event we don't have the exact rim you need, we have strategic partnerships with the top rim manufacturers to have your rims at our Dayton, NJ facility as quickly as possible.
Some of the most common rims we offer include:
Car custom rims

Aftermarket ATV & UTV custom wheels

Custom chrome rims

Custom machined wheels

Aftermarket custom mesh rims

Modular custom rims

Multi-spoke custom rims

Painted custom rims

Split-spoke custom rims

Truck rims

Custom rims for off-roading

And more!
In addition, we offer rims by all of the top manufacturers and brands, including:
Enkei

BBS

Vossen

SSR

OZ Racing

Konig

Forgiato

TSW 
HRE Performance

Fuel Off-raod

Motegi

Lexani

Focal

TRD

And more!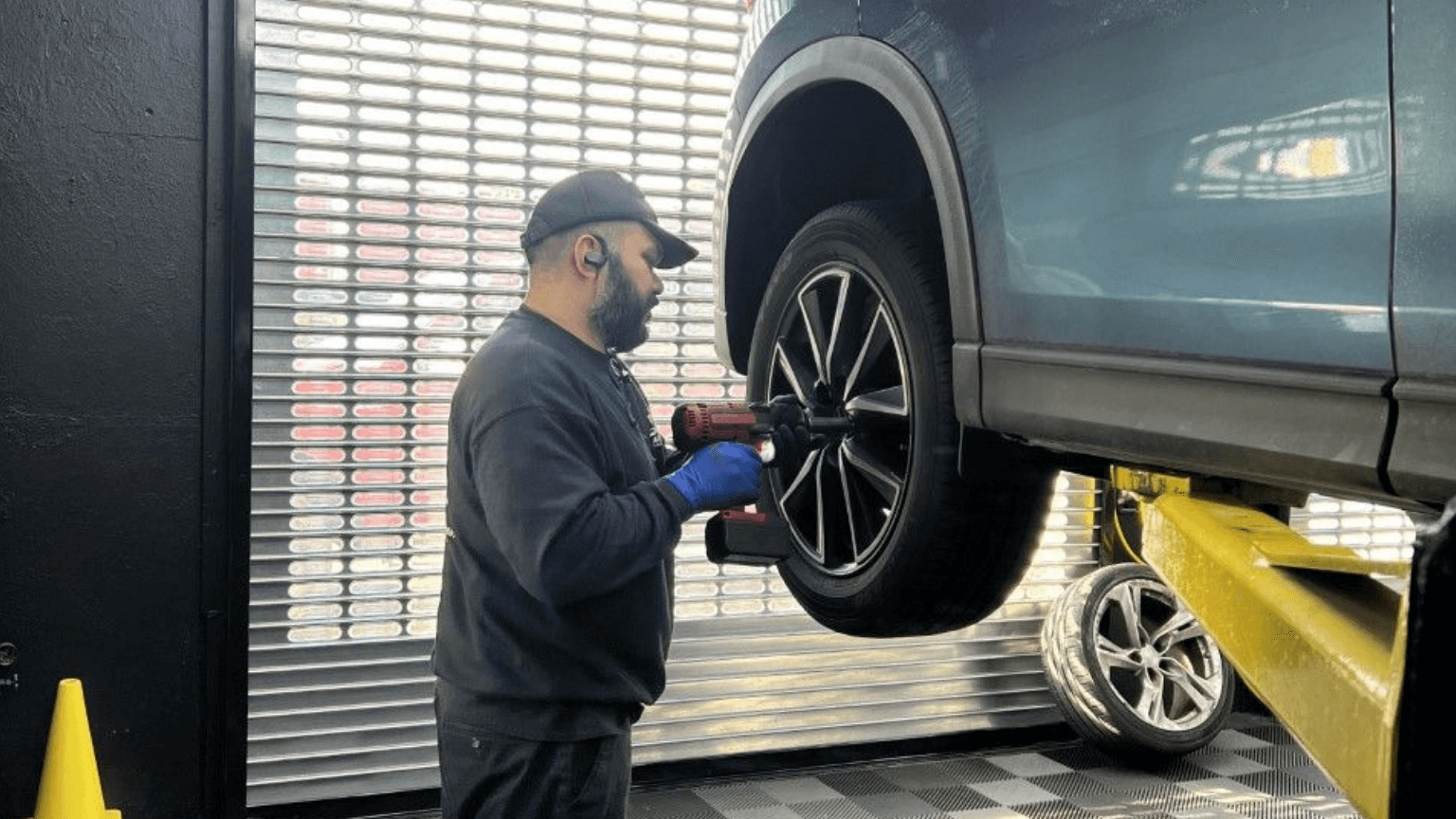 Got Custom Rim FAQs? EG Auto Center Has Answers!
Unless you've purchased custom rims several times, you most likely have several questions. Fortunately, the mechanics at EG Auto Center has provided quick and straightforward answers to some of the most frequently asked questions about custom wheels and rims:
What is a rim?

The rim is the cylindrical outer edge of your wheel that holds the tire onto the rim. The main job of your rim is to seal and support the tire to the wheel.

What is a wheel?

Your wheel is a circular block that rotates and moves your vehicle. Your wheel comprises several parts: the rim, the disc, spokes, center bore, lug holes, and outer lip.

What's the difference between a wheel and a rim?

For the most part, the terms "wheel" and "rim" are used interchangeably. However, there are technical differences. The wheel is the entire metal part where your tire is mounted. Simply put, the rim isn't the whole wheel — but only a part of it.

How do I know which rims will fit my vehicle?

Choosing the best rims can be tricky! Fortunately, you're not alone. Our experienced rim and tire mechanics will guide you through the process and keep you in the know along the way. We will take precise measurements to ensure the rims you choose will deliver the performance and style you desire.

How do I choose the right set of wheels for my car or truck?

When you purchase custom wheels from EG Auto Center, we will conduct an in-depth needs assessment to understand your needs, goals, and wants. For example, we will ask about any other potential modifications you're planning on and your daily driving habits. Then, we can suggest the best combination of wheel diameter, offset, and width to make your vehicle shine the way you deserve.

Does EG Auto Center offer finance for custom rims? Yes! We offer convenient, flexible financing through Synchrony Bank. Best of all, eligible applications may qualify for our promotional 0% APR for six months.
Contact EG Auto Center Today for the Best Custom Rims
Whether you live in Dayton, NJ, Kendall Park, Jamesburg, Plainsboro, Monmouth Junction, Monroe, North Brunswick, South Brunswick, or anywhere else, EG Auto Center is the best custom rim shop in the area. We offer aftermarket rims from all of the top brands for virtually every vehicle. No matter your budget or needs, the team at EG Auto Center can help. 
Contact us today for the best custom rims in Dayton, NJ.