Auto AC Repair & Service in Dayton, NJ
The importance of your vehicle's air conditioner can't be understated in Dayton, NJ. However, learning you need auto air conditioner repair can be alarming and stressful. Fortunately, the auto AC experts at EG Auto Center in Dayton, NJ can help.
As the top auto repair center in the area, our ASE-Certified technicians offer virtually every auto repair (including AC services) your vehicle will ever need. EG Auto Center is your one-stop shop whether you need a car AC recharge, a new compressor, or any other AC repair. 
So, don't hesitate to contact EG Auto Center to get the best auto AC repairs and services in Dayton, NJ and nearby areas.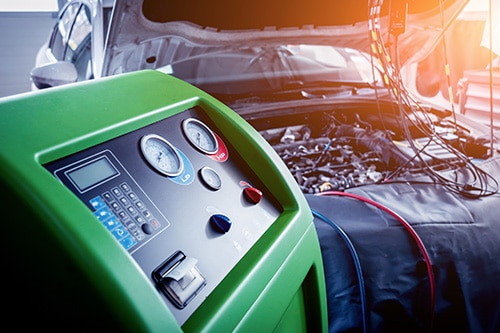 Auto AC Inspection & Diagnostics in Dayton, NJ
Whether your car's AC is blowing warm air or you're noticing strange smells, the first step in doing AC repair is to perform diagnostics. 
At EG Auto Center, our skilled mechanics will thoroughly examine your vehicle's AC system to identify the root cause of the problem, which may include checking the system pressure, analyzing the outlet temperature, and inspecting the various components of the air conditioning system.
Our inspection also often includes diagnostics of several air conditioning items, like compressor, condenser, AC clutch, switches, belts, relays, sensors, and blend door actuator.
The Best Auto Air Conditioning Repair in Dayton, NJ
Once we've identified the problem, our experienced mechanic will quickly and efficiently administer the solution. Some of the most common auto AC repairs we do include:
Addressing compressor issues
Fixing airflow problems
Checking and fixing refrigerant leaks
Rectifying the wrong refrigerant used
Auto AC electrical repair
Addressing AC condenser and line leaks
Accumulator repair
AC evaporator repair
AC line leaks
We Do Car AC Recharge in Dayton, NJ
AC recharge is one of the most common car AC services we perform at EG Auto Center. Our ASE-certified technicians will ensure your car's AC refrigerant is adequate. Upon completion, your car's AC system should now blow the cold air it's intended to do.
But before we recharge the air conditioner, we will verify that no leaks are present. After that, we will use state-of-the-art equipment to expel existing refrigerant and oil from the air conditioning unit and then refill it to the appropriate level with the correct refrigerant. 
How Do I Know If My Vehicle Needs AC Recharge or AC Repair?
Some of the most common indications your vehicle needs either an AC recharge or repair are:
AC no longer cooling your car or has reduced cooling capacity.
AC turns warm minutes after being turned on
Visible signs of refrigerant leaks on the ground
Greasy coating on AC components.
Puddle of water or significant dampness on the passenger's floorboard underneath the dashboard
Weird smell coming from the AC vent
Strange sounds when AC is turned on
If you notice any of these signs, have your AC inspected by the experienced mechanics at EG Auto Center. Doing so can prevent more expensive repairs for your vehicle's air conditioner.
Contact EG Auto Center for Professional Auto AC Repair & Maintenance in Dayton, NJ
If your car's AC is having problems, there's no need to sweat it! Our technicians can help you by providing expert auto AC repair and other services. Moreover, we offer a full range of automotive services for various vehicle makes and models. Simply put, we are your one-stop for all your auto repair needs in Dayton, NJ and nearby areas. 
Contact us today! Call us at (732) 329-6300 or complete our online appointment form. You can also drop by our full-service auto shop at 2276 US HWY 130, Dayton, NJ 08810.