Schedule an Oil Change in Dayton, NJ
Your vehicle's oil is identical to the blood that courses through your veins — it's imperative. Simply put, if your vehicle runs out of motor oil or if you use dirty oil in the engine, your vehicle will no longer function. Because of this, it's imperative to have your oil regularly changed at EG Auto Center in Dayton, NJ.
We are the leading facility for oil change services in Dayton, NJ. In addition to fast and efficient oil change solutions, we offer an extensive array of auto repair and maintenance solutions. Our experienced mechanic has the expertise and technology to deliver affordable automotive repair services for all makes and models of vehicles, including domestic and foreign.
Simply put, we are your one-stop shop in Dayton, NJ for automotive repair and maintenance solutions.
As we previously mentioned, your oil is important. Your oil must complete several critical tasks for your vehicle to function. Here are some of the top tasks: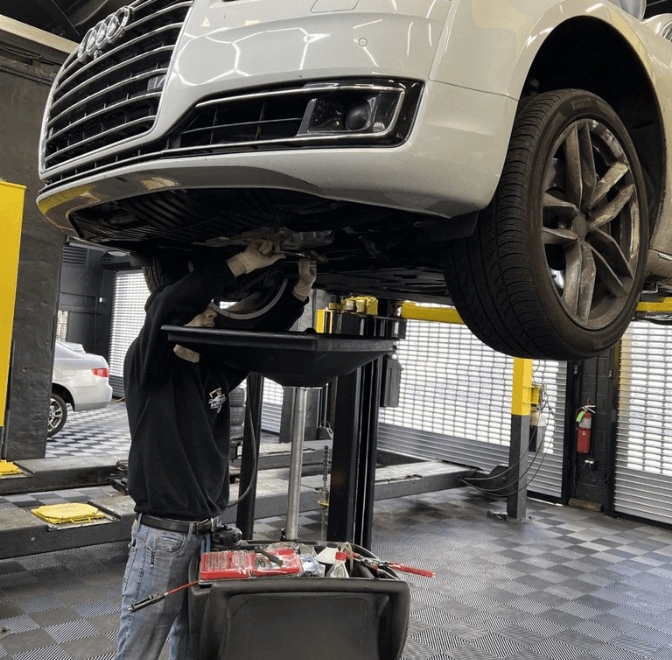 Oil helps reduce friction. One of the most critical roles of motor oil is to minimize metal-on-metal friction. It creates a protective barrier on key engine parts to help ensure metal parts smoothly glide over each other.

Oil helps prevent corrosion and rust. Engine oil is loaded with crucial corrosion and rust inhibitors that protect against regular wear and tear. This helps limit the oxidation of your oil while ensuring the longevity and better performance of your engine.

Oil cleans. Your motor oil also includes additive detergents that clean out impurities and other deposits. This helps keep your engine running safely.

Oil cools. Motor oil is a magical fluid that helps keep your engine running cool, preventing engine deterioration and energy loss.

Oil restores performance. Some engine oils are special blends that can help restore the function of your engine. High-mileage oils can be essential for older vehicles.
Why Do I Need to Schedule an Oil Change?
Your oil has several functions to perform. And it features special additives to help it do just that. A few essential additives commonly found in motor oil include:
Viscosity index boosters to improve the effectiveness of your oil in extreme temperatures.

Corrosion inhibitors help prevent the formation of rust.

Dispersants to prevent and remove sludge.
Over time, however, these key additives and nutrients break down. When this happens, your motor oil is no longer able to perform as it should. Waiting too long to have your oil changed can cause:
Engine failure

Reduced driving performance,

Unnecessary engine heating,

Decreased efficiency

And more.
Instead of chancing it, it makes dollars and sense to have a regularly scheduled motor oil change at EG Auto Center in Dayton, NJ.
Contact EG Auto Center to Schedule an Oil Change
Your vehicle is the second largest purchase you're likely to make in your lifetime. And one of the most important ways you can protect your investment is to schedule a regular oil change at EG Auto Center. Our experienced mechanics have the knowledge and state-of-the-art equipment to perform oil changes on any make or model of vehicle.
We regularly offer affordable oil change services for virtually all vehicles, including Toyotas, Nissans, Hondas, Fords, Chevrolets, and even luxury vehicles like Maserati, Lexus, Acura, and more. No matter the vehicle make, year, or model you drive, the team at EG Auto Center in Dayton, NJ offers affordable services to help you protect your investment.
Contact the mechanic at EG Auto Center in Dayton, NJ today.