Engine Repair, Rebuild, & Replacement
As the heart of every vehicle, an engine is a complex machine morphing heat from controlled explosions into propulsion energy. Due to its critical role, it can be alarming to learn that you need an engine repair, rebuild, or replacement.
However, due to its complexity and number of parts, the only way to determine which service your engine needs is through a full inspection and diagnostics. You'll be glad to know that at EG Auto Center in Dayton, NJ, we can help you decide and get the right engine service you need.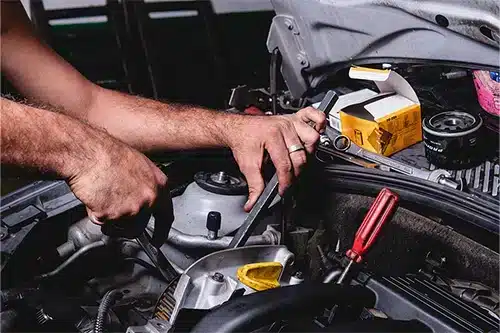 Engine Repair in Dayton, NJ
Engine repair is usually the most cost-efficient approach. It's the best option if the engine is in good condition but has one or two components that aren't functional or safe to operate. 
However, most engine repairs will be limited in scope. Sometimes, a repair will only buy you extra time and act as a temporary fix. 
Non-functional or damaged equipment may require a replacement or engine rebuild if the problem is significant. Moreover, when damaged parts continue to increase, the rising costs may make an engine rebuild to be more sensible.
Another key consideration is the age of the vehicle and engine. If the engine is an older model, finding replacement parts may be near impossible. If this is the case, a full engine replacement may be best. 
In any case, the mechanics at EG Auto Center will carefully explain all your options, implications, and considerations to help you make the best decision.
Engine Rebuild in Dayton, NJ
An engine rebuild is usually more labor-intensive—and expensive—than an engine repair. At the same time, an engine rebuild will almost always be less costly than an engine replacement. 
During an engine rebuild, mechanics remove and disassemble an entire engine and carefully inspect it. They clean the components and replace any damaged parts. The replacement parts can be refurbished or new. 
Choosing an engine rebuild offers several benefits:
Extends the lifespan of the engine
Reduces average lifetime costs
Reduces the need for maintenance over the life of the engine


We also need to distinguish between two types of engine rebuilds: 
Complete engine rebuild: This applies to the entire engine.
Component engine rebuild: Specific components that are in the greatest need are rebuilt. This is typically the route for drivers who do not want to commit to fully refurbishing their engines. You can capitalize on newer engine components without investing in a brand-new engine.
Engine Replacement in Dayton, NJ
As the last and usually the most expensive option, an engine replacement is done when engine rebuilds and repairs are not practical. 
There are specific instances where an engine replacement is always the best solution:
If your engine is low quality, outdated, or no longer supported by the manufacturer, replacing the engine may be a good idea.
Suppose your engine needs significant repairs or the full replacement of specific components (such as the powertrain), and the dealer no longer offers support. In that case, engine replacement may be the best course.
If you have to decide between engine replacement or purchasing a new vehicle, replacing the engine will almost always be the more cost-efficient option.


Engine replacement offers many benefits a piece of new equipment provides, such as improved fuel efficiency and reduced long-term maintenance.
Contact EG Auto Center for Engine Repair, Rebuild, & Replacement in Dayton, NJ
Noticing weird performance, seeing white smoke, or hearing strange sounds from your engine can be alarming. Fortunately, the EG Auto Center team is here to help.
We are proud to be the premier engine repair, replacement, and rebuild center in Dayton, NJ. Regardless of the services your engine needs, our mechanics will help guide you to the best solution. We also offer transmission repair and other auto repair services.
Call us today at (732) 329-6300 or complete our appointment form. You can also drop by our auto shop at 2276 US HWY 130, Dayton, NJ 08810.