Headlight Restoration in Dayton, NJ
Over time, your headlamp lens will naturally become pitted, cloudy, and yellow. Most older model vehicles and many newer vehicles have headlights that are ineffectual due to the cloudy lenses absorbing most of the light instead of passing through.
In addition to the reduced effectiveness of your headlights and compromised safety, this can also make your vehicle look unkempt.
Fortunately, the auto repair team at EG Auto Center in Dayton, NJ offers a fast, in-and-out headlight restoration service. At EG Auto Center, we are the leading repair facility in Dayton, Jamesburg, Kendall Park, Plainsboro, Monmouth Junction, Monroe, North Brunswick, and South Brunswick, NJ areas.
We also offer a full range of services to help your vehicle perform more safely and efficiently.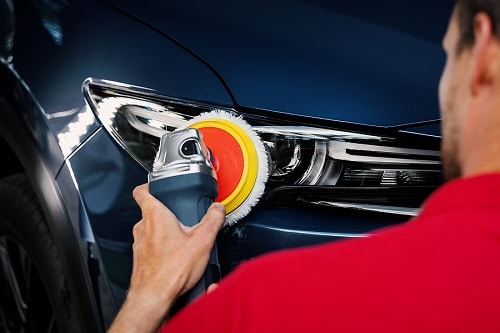 What Is a Headlight Restoration?
Our headlight restoration service in Dayton, NJ is a premium service designed to restore the clarity of your headlight lens. Regardless of the make or model of your vehicle, our service will restore your headlights to their original crystal clear appearance.
In the process, we can help improve your safety, bolster your nighttime visibility, and transform the appearance of your vehicle. Scheduling a headlight restoration in Dayton, NJ is one of the most cost-efficient ways to give your car a facelift without breaking the bank. At EG Auto Center, we call this restoration service the Botox of automotive corrective procedures.
What Causes Yellow, Dim & Dirty Headlights?
Your vehicle's headlights are continually exposed to the most challenging and worst conditions. It should come as no surprise that they can become dull and yellow over time.
Specifically, here are the top three reasons why your vehicle's headlights need restoration:
Driving Conditions. Every day, your vehicle encounters rocks, dirt, and dust. Run-ins with debris can further scrape and scratch your lens, which further reduces its effectiveness.
Oxidation. Headlights will become yellow over time due to prolonged exposure to UV rays. This problem may be even more prevalent for cars, trucks, and SUVs not stored in a garage.
Water Vapor. Anytime the airtight seal around your headlights is damaged or worn, water vapor will condense on the interior of your acrylic lens. This cause of headlight yellowing can be especially problematic for nighttime driving.
Can't I Purchase a Headlight Restoration Kit?
By now, we've all seen the As Seen on TV infomercials about headlight restoration kits. If not, you've most likely seen different kits in your favorite Big Box store. However, at EG Auto Center, our seasoned mechanic uses professional-grade, highly-effective solutions to restore headlights.
Simply put, these over-the-counter kits pale in effectiveness compared to our proprietary solution. When this extra-strength headlight restoration kit at EG Auto Center is paired with our skilled mechanic, you will enjoy superior results and crystal clear clarity.
Why Schedule Headlight Restoration at EG Auto Center in Dayton, NJ
At EG Auto Center, our specialized service can increase your visibility by over 100%. As soon as we are done, you will immediately notice the difference. Our experienced mechanics leverage the best and most effective cleaning solutions and processes to:
Erase scratches

Smooth pitted surfaces

Remove yellowing

Return your headlight acrylic to its original showroom glory!
Contact EG Auto Center in Dayton, NJ for Headlight Restoration
While yellow headlights have an unsightly appeal, it's also a matter of safety. Don't continue driving around on yellow, dingy, barely-visible headlights! Instead, the best solution is to reach out to the team at EG Auto Center in Dayton, NJ for premium headlight restoration.
Contact us today to schedule headlight restoration.