Muffler Shop & Exhaust Repair in Dayton, NJ
Your vehicle exhaust system, namely the muffler, catalytic converter, and attached components, is an essential part of your vehicle. Because of this, you can't allow an unchecked exhaust system or muffler problems to linger. Fortunately, you don't have to! At EG Auto Center, our exhaust system mechanic performs expert exhaust repair for all makes and models. Whether you drive an Acura, GMC, Infiniti, Honda, Toyota, Subaru, Mazda, Maserati, or any other vehicle, the auto repair team at EG Auto Center can deliver affordable solutions.
Don't Exhaust Your Vehicle's Exhaust System
Your exhaust system is vital for the overall safety and efficiency of your vehicle. This system begins at the very front of your car and continues out through the rear. When your engine produces hot gas, the exhaust system prevents it from collecting and entering the cabin. This system involves several parts, including:
The turbocharger forces additional air into your engine to generate more power.

O2 sensors communicate with your vehicle's onboard computer how your fuel-air mixture is combusting in the engine.

A catalytic converter transforms dangerous pollutants into less harmful toxins.

The muffler works to filter out more contaminants and reduce noise.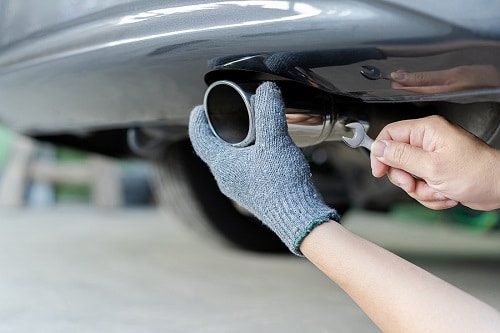 Collectively, the exhaust system is responsible for performing a range of critical functions:
Safely move engine gases to the rear of the vehicle

Limit and muffle engine noise

Help maintain ideal engine performance

Eliminate or reduce emissions

 
Your exhaust pipe, muffler, and catalytic converter are exceptionally vulnerable components that exist underneath your vehicle. Because of this location, these essential parts are susceptible to damage and corrosion — even when not in use. In
Remedy Common Exhaust Problems in Dayton, NJ
As you can see, your exhaust system is complex. This complexity opens the door to a vast range of potential problems. Fortunately, the mechanic at EG Auto Center offers repair services for all exhaust problems. Some of the most common causes of exhaust repair include:
Physical damage. Running over a speed bump, rock, or curb can cause severe physical damage to your

exhaust

system. This is one of the top causes of repairing

exhausts

in

Dayton, NJ

.

Corrosion and rust. Most of the

exhaust

system is made of metal. This metal is exposed to road salt and water elements, which naturally creates rust and corrosion.

Wear and tear. Because the

exhaust

system is located on the underside of your vehicle, it's also exposed to debris, rocks, and other objects. Over time, these elements can take their toll and require expert

exhaust

repair services.
Do You Need Exhaust Repair? Here's How You Will Know.
As with most components and systems on your vehicle, there are several signs that you need exhaust repair. If you answer yes to any of the following questions, you should contact EG Auto Center today to schedule exhaust repair in Dayton, NJ.
Do you hear louder than normal sounds?

Are you feeling the foot pedal or steering wheel vibrate?

Has your fuel economy decreased?

Do you smell less-than-friendly or questionable odors?

Is your Check Engine light illuminated on your dashboard?


All of these signs may indicate your exhaust system needs attention.
Contact EG Auto Center for Exhaust Repair in Dayton, NJ
EG Auto Center offers a range of exhaust repair solutions as the leading auto repair facility in Dayton, NJ, Kendall Park, Jamesburg, Plainsboro, Monmouth Junction, Monroe, and North & South Brunswick areas. Because we use the latest and most advanced diagnostics equipment to efficiently deliver exhaust repair and service on all makes and models. And every time you visit EG Auto Center, you will enjoy a world-class experience and several value-added solutions:
Complimentary 24-Month/24,000-Mile Warranty on

exhaust

repair services

Complimentary roadside assistance for the life of the warranty

Convenient 0% APR for six months on all

exhaust

repair services

Shuttle services —upon availability — in the Dayton, NJ area

One way Uber or Lyft trips

Complimentary beverages

High-Definition TV

Fast Wi-Fi in the lobby

After-hours auto service dropbox in

Dayton, NJ

And more
Contact us today to schedule exhaust repair in Dayton, NJ.