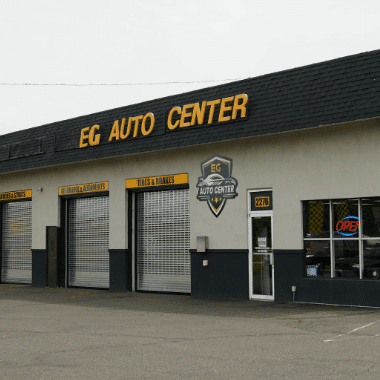 We get it — you have no shortage of options when choosing the best auto repair facility in Dayton, NJ, Kendall Park, Jamesburg, Plainsboro, North & South Brunswick, and the surrounding area. Because of this, we take every opportunity to demonstrate why EG Auto Center should be your choice for auto repair. At EG Auto Center, we offer an array of vehicle maintenance, auto repair, tire and rim services, and more for virtually all types of vehicles — domestic as well as foreign. But it's not just what we offer; it's how we do it.
As a family-owned and operated, local Dayton, NJ business, our priority is you — our valued customer. Our mission is to fix your vehicle right the first time on time and at a fair price.
Whether it's our family-friendly atmosphere, sparkling clean facilities, state-of-the-art equipment, highly-trained and certified technicians, or other value-added-auto repair solutions we offer, everything we do is to wow you at every turn.
It's a Family Affair — From Ours to Yours
At EG Auto Center, we are a family-owned, family-run auto repair facility. While our founders have almost half a century of automotive repair experience, we founded EG Auto Center back in 2016. We started the EG Auto Center out of a real need for transparent, reliable, and affordable auto repair in Dayton, NJ. As a father and son combo, we believe family comes first — whether it's yours or ours.
Because of this, we have created a leading auto repair facility that is as comfortable and convenient for a single mother as it is for an experienced auto mechanic. No matter who you are, we strive to create unique, world-class experiences at every turn. At EG Auto Center, we don't see you as a customer — we treat you like family.
Get the Platinum Treatment & Classy Service You Deserve
We pride ourselves on transparency, being upfront, and abiding by the Platinum Rule — treating you the way you want to be treated. At EG Auto Center, we offer personalized attention to detail backed by an array of value-added solutions you'd be hard-pressed to find at any other auto repair shop in Dayton, NJ, or anywhere else:
Affordable domestic and foreign auto repair
A complimentary 24-Month/24,000 Mile Limited Warranty on all repairs
Free roadside assistance for the duration of the warranty
Available 6-Month / 0% APR financing on qualifying repairs
An immaculate auto repair and service center
State-of-the-art, computerized auto-repair systems
Detailed images designed to educate you and increase transparency
Inviting customer waiting area
Shuttle services —upon availability — in the Dayton, NJ area
Free one-way trips via Uber or Lyft
Complimentary beverages
On-site refrigerator available for your convenience
Fast Wi-Fi in the lobby
After-hours auto service dropbox in Dayton, NJ
Because any repair facility can make the capital investment into the latest and most advanced equipment (although most don't), it's our people that set us apart. Whether it's the person answering the phone or the mechanic administering repairs on your vehicle, everyone's primary focus is on you and your needs.
Our team members are empowered to do what's right because it's the right thing to do. We strive to create an open, respectful, and encouraging environment for our employees. This is because employees who are treated well will — in turn — treat you the way you want to be treated. And in the rare event there is a discrepancy or miscommunication, you're only a few steps away from the owner.
Contact EG Auto Center Today for Auto Repair in Dayton, NJ
Don't settle for shoddy work, unkempt auto repair facilities, and condescending communication! You deserve the best, and that's exactly what you will receive from EG Auto Center. Contact us today!