Auto Electrical System Repair in Dayton, NJ
The electrical system is the nerve center of your vehicle, controlling critical functions such as starting the engine, powering the lights, and operating various components. 
From repairing faulty wiring to replacing damaged electrical components, our skilled technicians use industry-leading techniques and quality parts to ensure long-lasting results. We understand the intricacies of vehicle electrical systems, and we are committed to restoring your vehicle's electrical functionality to its optimal condition.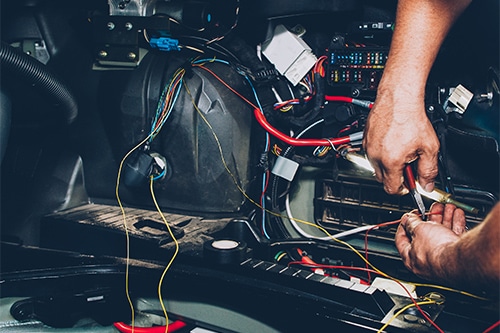 Expert Diagnostic Services
EG Auto has the knowledge and advanced diagnostic tools to accurately identify and diagnose electrical system problems in vehicles of all makes and models. 
Whether it's a malfunctioning battery, faulty alternator, wiring issues, or complex electrical component failures, our technicians have the expertise to trace the problem to its root cause. We meticulously inspect and test each electrical component to provide an accurate diagnosis and recommend the most effective repair solution.
The battery is the heart of your vehicle's electrical system, providing the necessary power to start the engine and operate electrical components. 
At EG Auto, we offer comprehensive battery services to keep your vehicle starting reliably. Our technicians can perform battery inspections, test battery health and charging system performance, and provide battery replacements when necessary. We also use only high-quality batteries to ensure reliable performance and peace of mind.
Alternator and Starter Repairs
The alternator and starter are critical components of the electrical system that work together to generate power and start the engine. If you're experiencing issues with starting your vehicle or notice dimming lights, it may indicate a problem with the alternator or starter. 
Our technicians in dayton, NJ have the expertise to diagnose and repair alternator and starter issues, whether it's a faulty connection, worn-out brushes, or a damaged component. We use quality parts and follow manufacturer guidelines to ensure proper function and reliability.
Other Electrical Component Repairs
If you're facing issues such as non-functional lights, malfunctioning power accessories, or faulty dashboard indicators, our technicians can diagnose and repair the underlying electrical component problems. We have access to a wide range of quality replacement parts to ensure your electrical components are restored to optimal functionality.
Wiring Repairs and Upgrades
Damaged or faulty wiring can lead to various electrical issues, including intermittent power loss, short circuits, and electrical component failures. Our skilled technicians have the expertise to diagnose and repair wiring problems efficiently. We use specialized tools and techniques to identify and rectify wiring issues, ensuring proper electrical connections and minimizing the risk of future problems.
Trust Your Electrical System Repair to EG Auto
When it comes to reliable electrical system repair in Dayton, NJ, EG Auto is your trusted partner. Our experienced technicians have the knowledge and skills to handle all types of electrical system issues in vehicles of all makes and models. 
Trust EG Auto for reliable and efficient electrical system solutions for your vehicle. Contact us today at (732) 329-6300 to schedule an appointment or to learn more about our vehicle electrical repair services. Our full-service auto shop is located at 2276 US Hwy 130, Dayton, NJ 08810.